Lady Gladiators defeat Avalon; At home tonight versus Itasca at 5:30 pm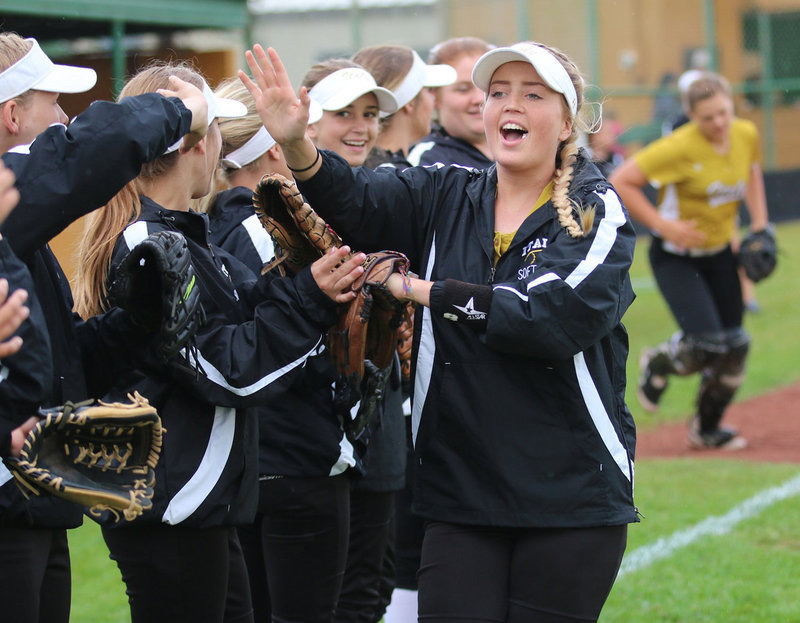 Italy — Italy vs. Avalon, Gold vs. Orange and Coach vs. Player. Italy assistant coach Johnny Jones was going against one of his former players, former Lady Gladiator and now Avalon's head coach, Crystal Langley Martin.
But there was no rivalry matchup here, not this night anyway. After the contest, Coach Jones presented Coach Martin with a game ball signed by the Lady Gladiators wishing her good luck in Avalon.
The game featured Jenna Holden on the mound for Italy and Karlee Wafer on the mound for the Lady Eagles. Catching for Holden was senior Lillie Perry. Italy senior Hannah Washington started at third-base, junior April Lusk patrolled shorstop, senior Cassidy Childers started at second-base, and sophomore Brycelen Richards started at first-base to round out Italy's infield. Senior Britney Chambers led Italy's youngish outfielders with Taylor Boyd, Karley Nelson and Kirsten Viator rotating the edges. Brooke DeBorde and Raegan Jones played DH for Italy's offense.
Italy was building a solid lead but the Lady Eagles showed grit when the pulled within 1 run, trailing Italy just 4-3 early. It was all Italy after that led by hitters Perry, Lusk, Washington, DeBorde, Chambers, Richards, Holden and Boyd.
Perry lofted her third over the fence homer of the season and her first ever at Johnny Jones Field. Lusk recorded her fourth inside the park homerun of the season giving her five homers total.
Washington, DeBorde and Richards were in attack mode at the plate, smacking bruisers aimed at Avalon's defense. Italy balances their power hitters with the base speed of Lusk, Chambers and Boyd.
Top infield plays were turned in by Lusk who caught a liner hit to her mitt and by Washington who caught a popup and then turned it into a double-play. After making the grab, Washington caught an Eagle trying to scramble back to first where Richards made the catch for the second out.
Senior second-baseman Cassidy Childers caught a popup with Eagles aboard to setup a golden opportunity for the Lady Gladiators to finish off Avalon with their bats.
Brooke DeBorde's second double of the contest ended the game scoring Washington to give Italy the win by run-ruling Avalon 13-3 in the fifth.
The Lady Gladiators will play their next district game at home against visiting Itasca tonight, Friday, April 15, starting at 5:30 p.m. Everyone is invited to help cheer on the Lady Gladiators as they prepare for a return trip to the playoffs.
Go Lady Gladiators!