Italy Lady Gladiator Softball celebrates Senior Day with a win and a few hugs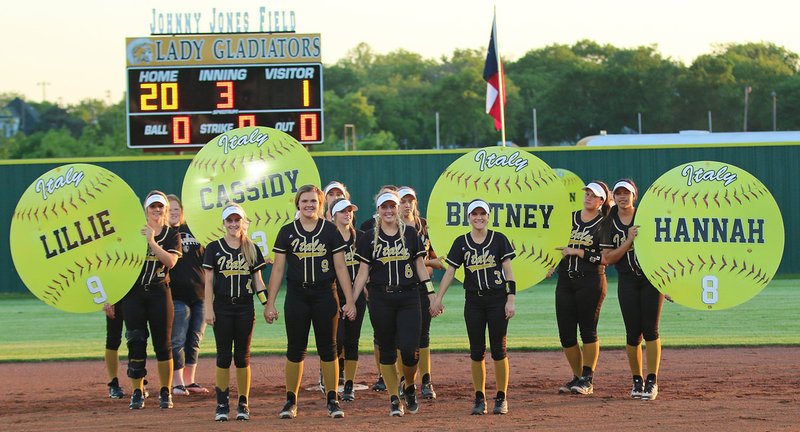 Italy, Johnny Jones Field — After the traditional senior walk, Italy seniors Britney Chambers, Cassidy Childers, Lillie Perry and Hannah Washington were escorted by their families and recognized for their efforts before their district matchup against visiting Covington.
Each senior was presented with a gift bag from their teammates as a thank you for all their dedication over the course of their high school careers. And they they will experiencing some of the final moments sporting an Italy uniform in the days to come, there was still some unfinished business to take care of and Covington was waiting for their chance to take a chink out of Italy's armor.
Thanks to solid a pitching performance form Jenna Holden and teamwork on defense, the Lady Gladiators made it difficult for Covington to spoil the day.
Italy's power-hitters Perry, Washington, Brycelen Richards, Brooke DeBorde and Holden led the way while speedsters April Lusk, Taylor Boyd, Childers and Chambers were unstoppable on the bases. Karley Nelson and Raegan Jones made the rounds as well to add some polish to the armor and secure the win 13-1 over Covington.
Congratulation to our seniors and to the squad on setting up another Lady Gladiator march into the playoffs! And to Chambers, Childers, Perry and Washington, thanks for the memories. Our swords are raised in your honor.
Gladiators Forever!