Italy Gladiator Baseball wraps up district with win over Itasca for Senior Night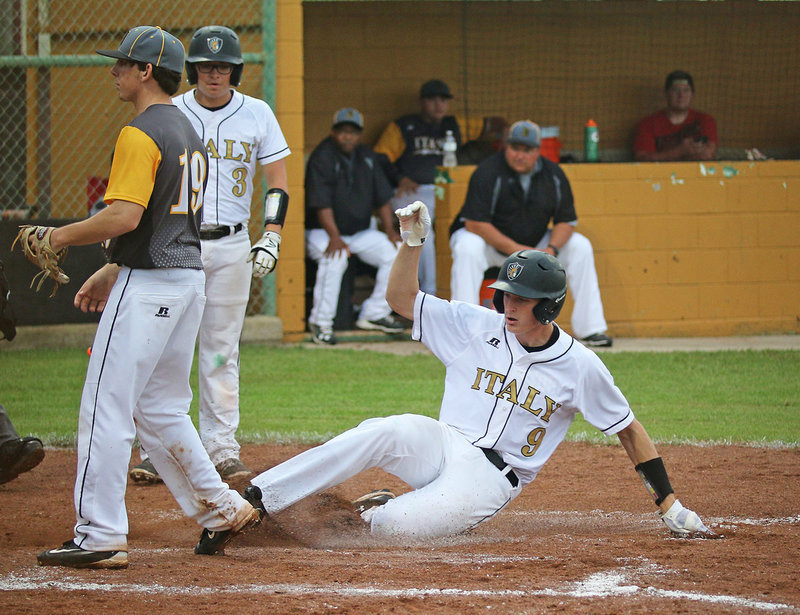 Italy, Loyd Davidson Field — With Italy trailing 1-0, the Gladiators got rolling in the bottom of the third-inning when a single from senior Austin Crawford sparked a 7-run rally to turn the tide for the guys sporting old gold and white during Italy Baseball's 2016 Senior Night edition.
Senior Levi McBride singled and Garrett Janek walked to load the bases with Crawford at third. Two batters later, senior Ryan Connor smacked a double to score Crawford and McBride, giving Italy a 2-1 advantage. After McBride raced home on a wild pitch thrown by Itasca, senior Micah Escamilla singled to score Janek from third to put Italy up 4-1.
Clay Riddle gets hit by a pitch to get on base. With two runners on base, Gary Escamilla hit a double to score Micah Escamilla, 5-1 Italy, Riddle reached third-base. Moments later, Riddle scampers home off a wild pitch to extend Italy's lead 6-1. Gary Escamilla reached third-base and then soon scored when Itasca's catcher's throw back to the mound sailed over his pitcher's outstretched glove, 7-1 Italy.
Eli Garcia blooped one over Itasca's infield and down the first base line to get on base. McBride walks to put runners at first and second-base but Italy's next batter grounds out to short to end the third-inning of play.
Itasca manages to score 2 runs to pull within striking distance of Italy in the top of the fourth-inning, 7-3. McBride, on the mound for Italy throughout, stops a fast moving grounder and then threw to Riddle covering first-base for the third-out needed.
In the bottom half of the fourth and with 1 out, Micah Escamilla doubled to score Windham and senior Clayton Miller to increase the Gladiator edge 9-3. Riddle records a triple scoring Micah Escamila who bumbles, stumbles and rolls across home plate to make the score 10-3. The senior failed to earn any style points but the run counted just the same.
The aggressive base-running Riddle is caught too far away from the third-base bag for the second-out followed a fly ball hit by Gary Escamilla that was tracked down in deep center for the third out. Italy did enough, however, and confidently entered the fifth-inning leading 10-3.
Connor at short scoops a grounder and then connects with Riddle at first for the first out. Itasca scores a run to make the score 10-4 before Italy can secure their next 2 outs. In the bottom of the fifth, Italy loads the bases with Garcia, McBride and Janek. After Garcia scored and Windham gets on to keep the bases loaded, 11-1 Italy up. With 1 out, Connor drops a high ball into the left field gap scoring 2 more runs for the Gladiator cause. Connor's effort gave Italy a 13-4 cushion.
With Micah Escmailla at the plate, Windham avoids the tag when he high-steps across home plate after another wild pitch from Itasca. Windham's run ended the game early as the Gladiator run-rule Itasca 14-3 for the district win. Italy finished the season on a high note with the win. During a post-game ceremony held inside the Coliseum to avoid the rain, all 8 senior Gladiators were honored while being escorted by their families.
Special thanks to our 2016 seniors Levi McBride, Micah Escamilla, Jorge Galvan, Ryan Connor, Hunter Merimon, Clayton Miller, Austin Crawford and Ty Windham for a your dedication over the years!!!!!!!!
Gladiators Forever!