Italy High School baseball pitcher Ty Windham commits to Cisco College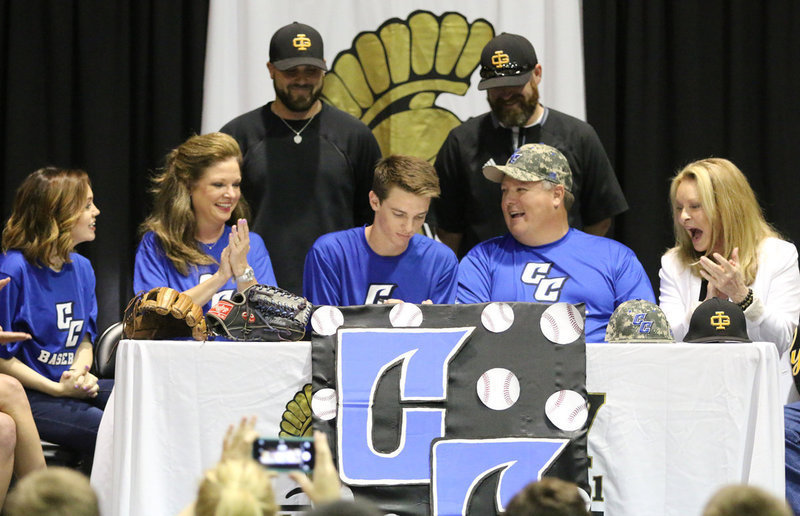 Italy High School baseball pitcher Ty Windham commits to Cisco College as he realizes a long sought after dream.
"As I was transitioning into high school, I became inspired by previous student-athletes from Italy who were committing to play sports at the college level. Attending ceremonies where Alyssa Richards and Jaclynn Lewis committed to play college softball, and with Kortnei Johnson committing to run track and Zain Byers committing to play football at the next level, it gave me a goal to strive for," commented Ty.
Ty went on to say, "I looked at several colleges and have been in contact with Cisco College since my sophomore season. A two-year junior college, Cisco's focus is on making players bigger and stronger and preparing them for the next stages of their careers. They recently had 12 of their 32 players sign to D1 programs. I decided that was the best path for me."
Ty recently received the Lloyd Davidson Memorial Team MVP award for baseball during the 2016 Italy High School Spring Athletic Banquet.
Parents Andi and Joe Windham and sisters Cassi Windham and Drew Windham who were also in attendance for Ty's big day, know how hard he has worked for this moment and were beaming with pride as Ty made it official inside Gladiator Coliseum. Ty was supported by grandparents Billye and Joe Windham Sr., baseball coaches Daniel Weaver and Mitchell Blake, teachers, baseball teammates and fellow students who filed into the dome to witness the moment.
The dream had become reality with it being Ty's turn to inspire the next great Gladiator…
Congrats, Ty! Gladiator Forever!!