Prayer vigil held in downtown Italy pays respect to the fallen Dallas officers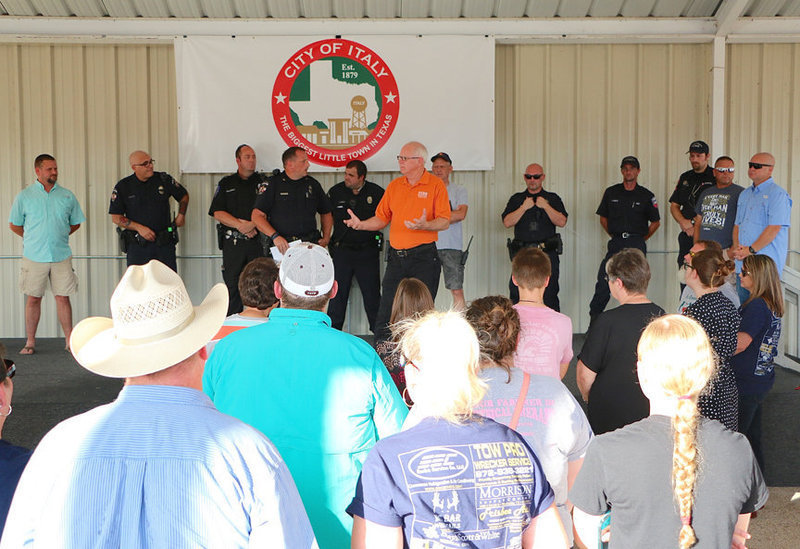 A community wide prayer vigil was held inside the pavilion located in downtown Italy, Texas Friday evening with First Baptist Church of Italy Pastor Ronnie Dabney and Central Baptist Church of Italy Pastor Joseph Barrett addressing those attending in regards to the recent attacks on Dallas Police Officers during protest being held in their city.
Italy Police Chief Cameron Beckham gave the following speech addressing the pain being felt by the families of the fallen and injured Dallas officers, fellow law enforcement officials and our communities:
---
Matthew 5:9 reads "Blessed are the peacemakers, for they will be called children of God"
First of all, I want to thank all of our community support through these rough times which we as first responders are facing. I was approached in reference to having a community prayer, and I was honored to know that we have a community that does not live in fear but spreads love and happiness throughout this city.
The Dallas Police Department faced its worst nightmare last night. At which time, some officers lost their lives because of a senseless act of violence. We as a community have come together in this time of separation and need.
"Separation" is a funny word to say, but we have all seen the separation between the different movements that have come about. "Alan Jackson" wrote lyrics in a song about 9/11 back in 2002 and it said "Where were you when the world stopped turning on that September day?" And on that day and many thereafter, we as a nation came together as one, and we loved and mourned as one. Now as I look upon this day, after that senseless act and devastation that took many lives, we have seen more support from our community as a whole than ever before. These first responders that stand before you, POLICE / FIRE / EMS, are here to protect and serve this community to the best of our ability.
There were five officers killed in the line of duty yesterday, belonging to the Dallas Police Department and Dart Police Department. Their children did not get to kiss their daddy's or mommy's goodnight. They did not get to tuck their kids into beds. They did not get to kiss and or love their significant other when they got home after their shift. They did not get to call their mom or dad and say what kind of day they had. They were assassinated because of the uniform they wear. They were killed because of the job they chose to do.
Enough is enough!!!
We stand before you today because we are first responders, and we stand before you today, because we love the job we do and the community which we will continue to serve.
---
Pastor Dabney then united the officers and citizens in a tight group as a he delivered one final prayer for all of us being affected by the tragedy.
Remembering The Fallen Five who lost their lives in the line of duty:
• Brent Thompson, 43 — Dart Police Department
• Patrick Zamarripa, 32 — Dallas Police Department
• Michael Krol, 40 — Dallas Police Department
• Sergeant Michael Smith, 55 — Dallas Police Department
• Senior Corporal Lorne Ahrens, 48 — Dallas Police Department
Police Officers are Peace Officers