Crews work over the weekend to ready the Stafford Elementary campus for students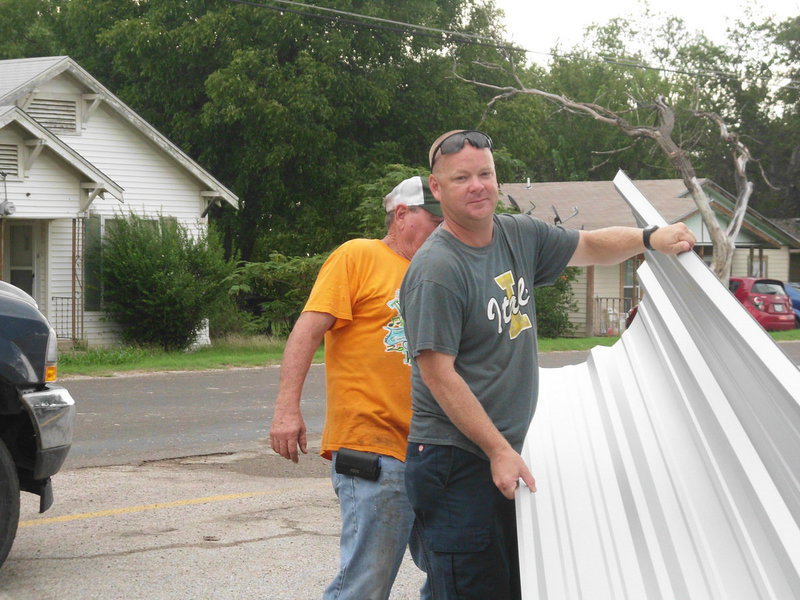 With the recent rains causing work to slow or cease, the Operation's crew of Italy ISD is working hard to get both campuses ready for students on Monday.
In Phase I of the reconstruction of Stafford Elementary, the middle corridor building is set to be torn down in the near future. This building was erected in the early 1960s. Because of this, Stafford students and employees will have to walk outside to go to the cafeteria and gymnasium.
"We are working hard this weekend to erect a covered walkway for our Stafford students," said Michael Chambers, Director of Operations for Italy ISD. "The walkway is approximately 700 feet in total length. It covers the walkway from the front door of the school to the cafeteria and the back door of the cafeteria to the gymnasium."
Ken Cate, owner of Cate Welding, answered the call and brought his crew to get the job done. With the rain delays, the school is thankful for their last minute help.
Chambers said the rain delayed the placement of the portable buildings, but hopes to have them in place in two weeks.
Even Superintendent, Lee Joffre, pitched in on Saturday to help get the Stafford campus ready. He helped Larry Mayberry mow the grass at Stafford. His dedication to our school district was very evident.
This project is proof that Italy graduates love their school and are willing to do whatever it takes for Italy ISD and the students to be successful.
Out of the nine workers that were there on Saturday, 7 of them graduated from Italy High School. They are:
1968 – Jackie Cate, Sr.
1971 – Don Chambers
1987 – Jackie D. Cate & Lynn Lambert
1994 – Ken Cate & Michael Chambers
1999 – Brad Chambers