Italy Gladiator 10U Baseball earns Tournament Runner-up rings in Waxahachie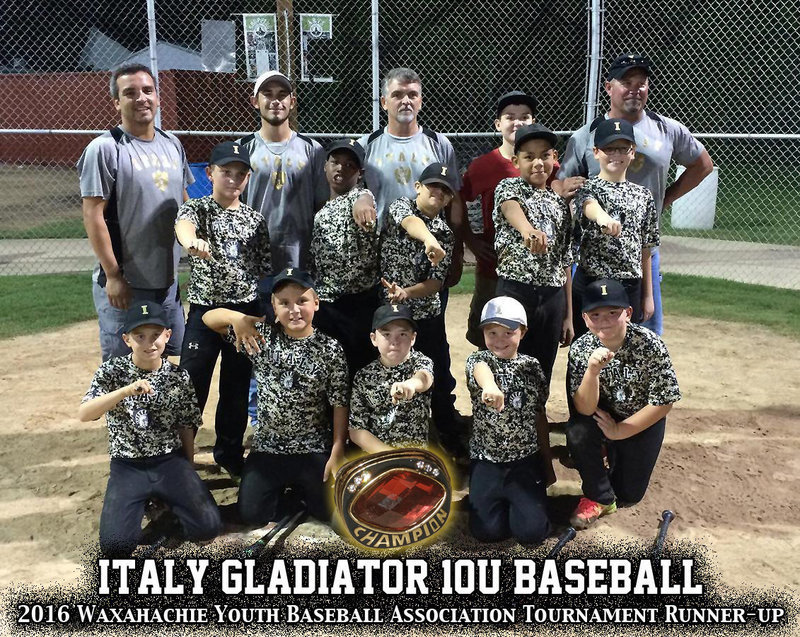 Waxahachie — Congratulations to the Italy Gladiator 10U Baseball Team that finished as the 2016 Waxahachie Youth Baseball Association End of Summer Tournament Runner-up this past Friday night at the Optimist Club fields.
In round-one of the three-round tournament, Italy defeated the Maypearl Cardinals 10-4 to advance to the semi-finals. In round-two, Italy rolled past the Waxahachie Reds 11-2 to advance to the championship game where they matched skills against the Ducks' traveling select team.
Italy scored the first run and then went up 3-0 early. The experience of the Ducks won out in the end, however, with the Ducks pulling away for the 11-4 tournament championship win.
"We endured some close losses during the course of the regular season but like Italy kids always seem to do, they just persevered and ended their season with a ring. The coaching staff and parents are just really proud of what these young Gladiators were able to accomplish against some really talented competition," said Head Coach Gary Wood.
Representing Italy for the Champion Ducks was Italy's own Austin Cate. Congrats, Austin!
Italy Gladiator 10U Baseball Roster:
Gladiator
Dustyn Lohner
Gavin Ramirez
Gared Wood
Rhet Mathers
Luke Drake
Chance Shaffer
Traylen Fannell
Damien Wooldridge
Jaylen Wallace
Clayton Hellner
Jackson Perkins
Cory "Lucky" Johnson
Head Coach: Gary Wood
Assistant Head Coach: Sal Ramirez
Fielding Coach: J. Hellner
Pitching Coach: Tony Wooldridge
Assistant Coach: Bryce DeBorde
Go Italy!