Italy HS 2016 Junior vs. Senior Powder Puff Football Game was fun for all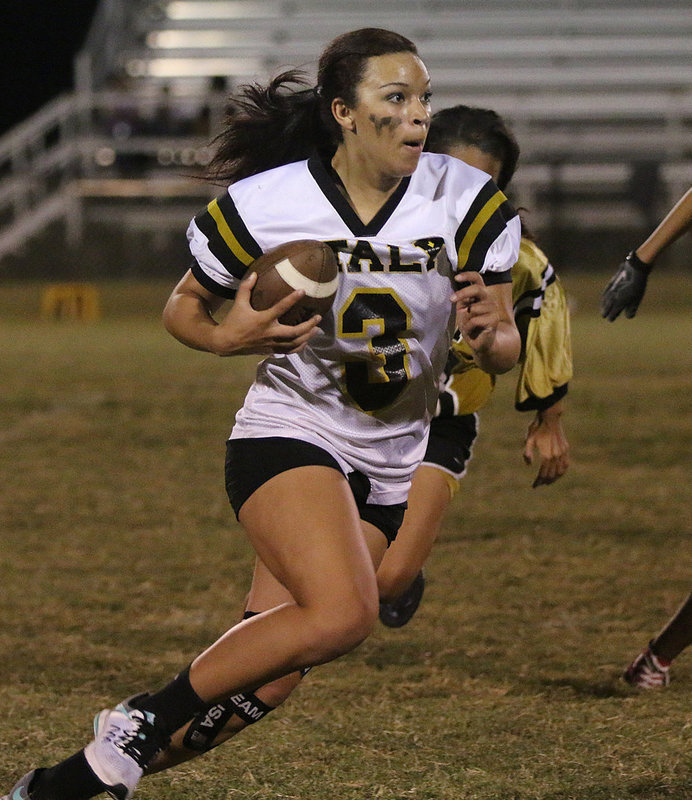 Willis Filed, Italy — Boy Cheerleaders Christian "Christina" Lightfoot, Nick "Nicky" Kirton and Michael "Michelle" Hughes kept the fans entertained with their lack of overall cheerleading skills while the junior and senior Girl football teams put on a show with their athletic talents on full display.
The seniors scored twice to lead 12-0 but the juniors clawed their way back into it to make the score 12-6. With Decorea Green handling the bulk of the quarterbacking duties, the senior girls raced out to an 18-6 advantage with April Lusk carrying the load for her side in the running game scoring 2 rushing touchdowns. Goto receivers for Green were Vanessa Cantu who caught a touchdown pass in traffic and Aarion Copeland who had the catch of the night with juggling grab for a long gain. The main long snapper for the seniors was Kimberly Mata.
Quarterback Brycelen Richards helped keep the game close when the juniors pulled within a touchdown, 18-12, to setup and exciting fourth quarter. Juniors Grace Haight, Annie Perry and Emmy Cunningham were goto receivers for Richards while Richards, herself, hauled in a touchdown pass from Cunningham. The long snappers for the juniors were Rori Russell and Paige Cunningham.
Defensive standouts for the seniors were Green who had a near pick early, Lusk who used her speed to make tackles and Oleshia Anderson who kept pressure on the junior quarterbacks.
Haight led the defensive attack for the juniors with an interception of her own to keep points off the board. Takeya Pace was active on defense, as well, along with Anicka Garcia, Marlen Hernandez, Antonia Salazar and Tomi Newman.
However, it was Green who connected with Heaven-Lea Bossu-Browne to seal the deal for the seniors who held on to win 24-12 in another Powder Puff classic at Willis Field.
It was obvious the girls were enjoying the friendly competition because everyone was wearing a smile.
Congratulations to senior squad head coach, Joe Celis, who received a celebratory water bottle bath after his group of girls earned the victory. Junior head coach Kendrick Norwood also deserves kudos for having his gals ready to play in what proved to be a great night for Italy Athletics.
Senior Girls Varsity Roster:
Oleshia Anderson
Heaven-Lea Bossu-Browne
Vanessa Cantu
Aarion Copeland
Decorea Green
April Lusk
Kimberly Mata
Head Coach: Joe Celis
Assistant Coaches: Kenneth Norwood, Kevin Johnson, Jeremiah Thompson, James Walton


Junior Girls Varsity Roster:
Sarah Burrow
Kylee Dabney
Emily Cunningham
Paige Cunningham
Rose DeLeon
Anicka Garcia
Noeli Garcia
Grace Haight
Marlen Hernandez
Jenna Holden
Annie Perry
Takeya Pace
Brycelen Richards
Rori Russell
Antonia Salazar
Angel Smith
Head Coach: Kendrick Norwood
Assistant Coaches: Tylan Wallace, Clay Riddle, Gary Escamilla


Special Thanks to Italy Athletic Booster Ad Sponsors:
Hometown Cleaners
Central Baptist Church of Italy
Danny Day Trucking
Dencor Drilling
Old Gold Sports
Action Sign and Banner
Shop with a Hero
Monolithic
OK Lumber
JK Excavation
Albert Garcia Company
Citizens National Bank of Italy
Cate Welding
Hyles C5 Car Wash
First Baptist Church of Italy
Italy Dental
Lil' Dab Embroidery
McGraw/Clark Photography
First State Bank of Italy
Abacus Foundation Repair
South Ellis County Water Supply Corporation
BHB Feed and Supply
Italy Lions Club
Judge Jackie Miller Jr.
Italy Auto Parts
Rice Box Expres, Italy
Pizza Inn, Italy
Subway, Italy
Varner's Alon, Italy
BP Renovations LLC
J & S Electric Co.
Jerod Mandrell Trucking
CDL HELP – Specialized Fleet Services
Wine Shop at Home
Ellis County Insurance Agency
Ellis County Commissioner Precinct 3 – Paul Perry
San Davis – Lee Harris Custom Excavation
Wood Paint and Body, Italy
Go Italy!