Italy ISD Students and Campuses Recognized at School Board Meeting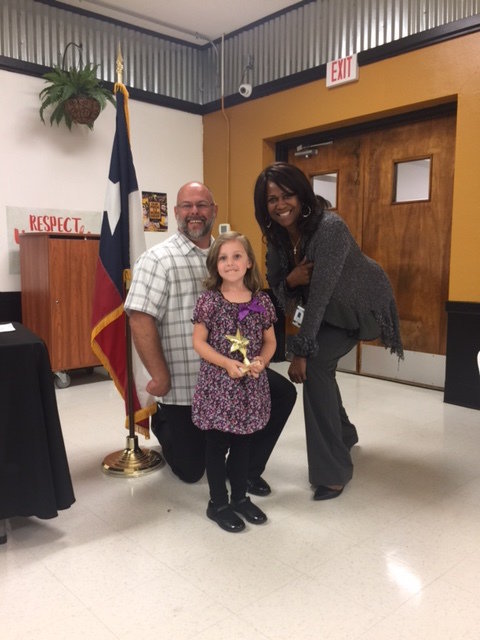 On Monday, November 14th, 2016, several students and both campuses were recognized for achievements they've recently received.
Mr. Joffre, Italy ISD's Superintendent, began recognizing outstanding students and athletes on Stafford's campus this year. Students are nominated by their teachers and coach for the Superintendent's Star Student Awards and the Superintendent's Junior Gladiator Awards respectively.
This month's recipients of the Superintendent's Star Student Awards are Noelle VanOmmeren in PreK, Isabela Hidalgo in Kindergarten, Tripp Slovak in 1st grade, Harlee Krusen in 2nd grade, Sofia Ibarra-Landeros in 3rd grade, Treylen Fennell in 4th grade, and Carmelita Maria Cortez in 5th grade.
The Superintendent's Junior Gladiator Awards recipients for this month are Jack Weaver, a second grader, and Kiyah Rodriguez who is in 5th grade.
Congratulations go out to all of these Stafford Stars!
At Italy High School, the FFA Public Relations Leadership Development Event Presentation received 3rd place out of 8 teams. This is the first banner won in leadership since 2001. Ag teachers Kayla Threet and John Woody are working toward having a well-rounded program that includes leadership, career development, and livestock showing. We are proud of these students for their hard work and for representing IHS well. Team members include: Eli Garcia, Alex Jones, Courtney Riddle, and Clay Riddle.
Students who have been accepted to post secondary institutions were also recognized by Tina Richards, Italy High School's Academic Adviser. David DeLaHoya will attend Texas State Technical College and Eli Garcia will attend Texas A & M. IHS knows these young men will do well in pursuit of their future careers and wishes them the best.
On the campus level, both Stafford and Italy High School Met Standard according to state criteria. Italy High School also received four distinctions in the following areas: Reading ELA, Math, Social Studies, and Post Secondary Readiness. Mr. Joffre congratulated the high school campus for demonstrating academic excellence. He also recognized the elementary school teachers and staff for setting the academic foundation that has helped the high school be successful. Our teachers and students work hard to ensure success when competing with districts across the state. We are proud of their accomplishments.