IHS head softball coach Tina Richards to coach RED team in 2017 FCA Victory Bowl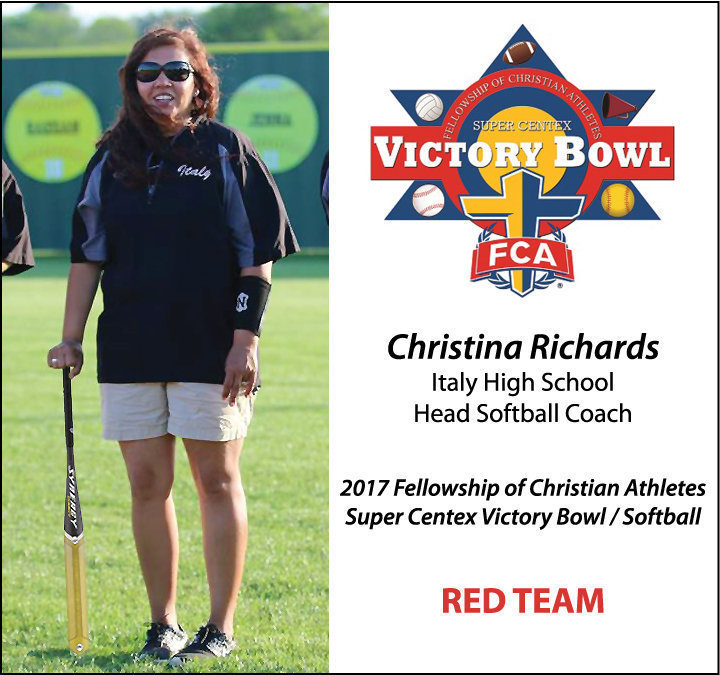 FELLOWSHIP OF CHRISTIAN ATHLETES SUPER CENTEX VICTORY BOWL
Waco, Texas — January 9, 2017 – The Heart of Texas Fellowship of Christian Athletes announced the 2017 Blue and Red Team Coaching Staffs at a press conference on Saturday, January 7th.
Among the coaches selected to lead their squads in the 2nd Annual Victory Bowl Softball Game are Italy High School's head softball coach Tina Richards, who will be joining Kirk Allen from Crawford High School and Guyla Smith from West High School as the coaching staff assigned to the RED team.
Coaches for the opposing BLUE team will be Ed Trochim (Midway), Karen Ramirez (University) and Gus Beuershausen (Academy).
The softball game will be played at the University of Mary-Hardin Baylor (UMHB) on Friday, June 9, starting at 6:00 p.m. following the end of an uplifting week of practices, service projects, and much more. $5.00 Tickets / Free Parking.
Congratulations Coach Richards on being selected and good luck to your fellow RED team coaches and players!
2017 FCA Super Centex Victory Bowl / Softball
Upcoming Victory Bowl Events:
February 12th — Player Press Conference (Highland Baptist Church)
April 9th — Victory Banquet (Ferrell Center) Keynote Speaker: TBA
June 7th — Players and cheerleaders report (University High School) and (University of Mary-Hardin Baylor)
June 9th:

2nd Annual Victory Bowl Baseball and Softball Games (UMHB) — 6:30 p.m.)

June 10th:

4th Annual Victory Bowl Volleyball Game (University High School – 12:30 p.m.)
9th Annual Victory Bowl Football Game (Waco ISD Stadium – KICK OFF at 6:30 p.m.)