A great time to be a Gladiator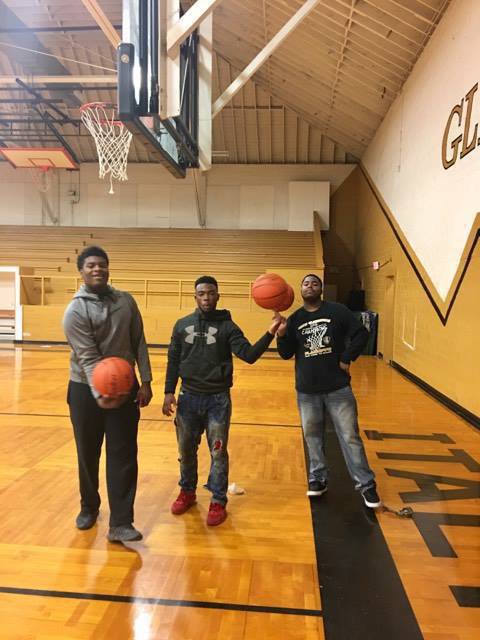 Twenty years ago the Italy Gladiator basketball team won state. Their legacy lives on in the hearts and minds of each of the athletes, coaches and Italy Gladiator fans. This year the Gladiators wanted to repeat what the 1997 team had done and worked hard to achieve that goal.
Last Friday night that dream came to an end for the players, coaches and fans. It also came to an end for several of the 1997 team members that were in attendance. But, this year's Gladiators left their mark on Italy sports history that will never be forgotten by anyone that was there.
The Gladiators were facing the Tenaha Tigers. In the first quarter, both teams showed quickness on both sides of the ball. Italy trailed at the end of the 1st. The Gladiators stepped up and tied the game at 39 at the end of the first half.
At the end of the 3rd, Italy was trailing by 10. Determined to make a comeback, the Gladiators fought hard, but could not overcome the deficit.
With around two minutes until the final buzzer would sound, three Gladiators did something that no one from either side expected. The Tenaha coach sent in Fer'Davion Thomas, a special needs player. Three of the Gladiators did what no one in the Leon gymnasium ever thought they would do.
Instead of driving down the court, Gladiator Christion Washington passed the ball to Thomas, who missed his shot. What followed brought the fans from both sides to their feet. Washington walked Thomas to the perfect position to score. When Kenneth Norwood passed the ball in bounds for Italy, he passed it to the Tigers #33 who hit his shot. The crowd erupted.
Again, Norwood threw the ball to Thomas to attempt a 3-pointer. The shot missed and that is when Kendrick Norwood took over. Standing under the goal he got the rebound and passed to Thomas for another try, not once but three more times before the final buzzer ended. The scoreboard showed that Tenaha won the game 92-67, but everyone knew that the Italy Gladiators were the true winners that night.
"I played a couple of games this year on J.V. with Mikey South," Christion Washington explained. "Mikey is a special needs athlete. I wanted to give #33 a night he would never forget."
Friday night was Kenneth Norwood's last basketball game as a Gladiator. "At the end of the day it is bigger than the victory," said Kenneth Norwood. "It was the right thing to do."
When asked if the scoreboard mattered at the moment Thomas came into the game, all three Gladiators answered in unison, "No".
"We have a club that was started this year called Circle of Friends," said Kendrick Norwood. "We help our special needs friends every day at school. I got to help coach them in Special Olympics." Norwood stated he wanted to give Thomas a chance to shine. And that he did.
David Weaver, Italy's Athletic Director, was a member of the 1997 Gladiators that won the state title.
"We were able to enjoy the moment as a community," Weaver said. "I am just as proud of our team now as I would have been had they won state. Those last two minutes will last longer than a trophy. What they did on the court proved who they are. They left their mark in Gladiator history."
Mikey South's mother is an Italy ISD board member. She said that Mikey never gives up. When he was in the 8th grade, she received a call that her son would be playing in his first basketball game that night and she needed to sign a form.
"Mikey signed himself up for basketball," Tessa South explained. "He has taught us so much. His determination is an inspiration to everyone he meets. We are so proud of him. He is a member of the Italy J.V. basketball team. His teammates are amazing. They allow him to score and shine every game. We are so thankful for them."
Kelli Ballard knows how important it is for a special needs child to be allowed to shine. The Circle of Friends helped her son Wyatt and other students to shine at Special Olympics this year. They will also be going with the students to the Ellis County Expo on April 7, 2017 for "A Day in the Ring". They will help the Italy special needs students show animals that day.
"My heart is full of joy because of what our athletes did Friday night," said Ballard. "What Christion, Kenneth and Kendrick did might be small to some people, but it was huge to me. I am so thankful they are my Wyatt's friends."
Several Tenaha fans posted videos on Facebook and shared them with Italy fans. KDFW featured the Gladiators on their newscast last night. All the attention the three Gladiators are receiving has not changed them. They are still humble young men with hearts of gold that gave a gift to Fer'Davion Thomas – a chance to shine in a Regional basketball game. They gave Italy fans an unforgettable memory and another reason to be proud of them. It truly is a great time to be a Gladiator.