Silver Spurs 4-H Club Wrap Up Banner Year with District Championships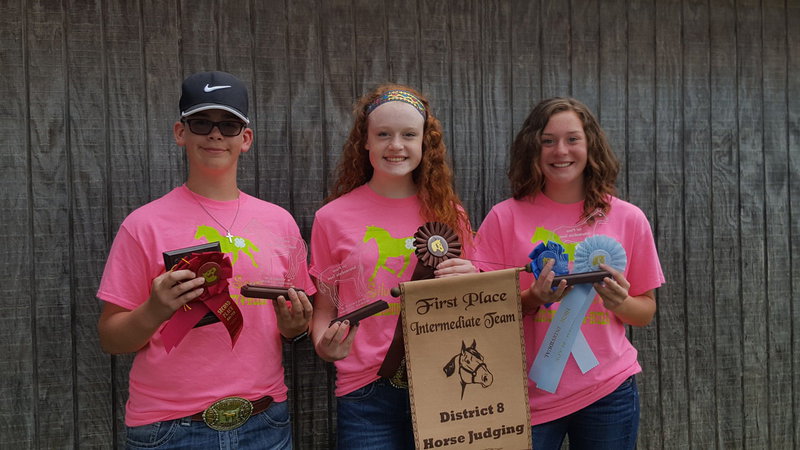 Silver Spurs 4-H Club wrapped up a highly successful 4-H year with numerous blue ribbons and first time achievements at the District 8 4-H Horse Show at Bell County Expo in Belton, Texas, June 19-20. Sadie Hinz, a soon to be 8th grader at Italy Junior High, led the team winning a buckle as High Point Intermediate Judged Horseman with 1st places in Western Riding and Western Horsemanship, as well as 2nd place in Showmanship, and 3rd in Trail.
Other Silver Spurs 4-H members earning 1st places in the district show included Gentry Rogers of Milford who won Trail, Brylee Tucker of Hillsboro who won English Equitation, Jacob Ingram of Waxahachie who won Hunter Under Saddle, and Maegen Newsom of Ennis who won Stock Horse Horsemanship.
Silver Spurs 4-H Club achieved another milestone at the District 8 Horse Show by riding in the Precision Drill Team exhibition, the first time an Ellis County team has performed a horsemanship routine to music. Club manager Julie Hinz of Italy, said she hopes to continue to build the number of riders on the drill team and compete at state in the future.
In other areas of 4-H competition, the Hippology team competed at Texas State 4-H Round Up held at Texas A & M University June 5-8. The team of Hinz, Rogers, and Autumn Wells won 2nd place in State. The team of Ingram, Newsom, and Alyssa Ingram, finished the competition 3rd in State.
"Hippology is a contest that tests 4-H'ers overall equine knowledge," said club manager Hinz. "There is a written test that includes veterinary science such as disease and parasites as well as show and rodeo rules. The ID and slideshow tables require a mastery of horse breeds, colors, markings, bones, saddle parts, bits, grasses and more. There is also a horse judging section."
In May, the horse judging team wrapped up their season at the District 8 Horse Judging competition held at Texas A&M. The Ellis County team of Hinz, Ingram and Newsom won the buckle for first place overall horse judging team.
"I can't express how proud I am of this 2016-2017 Silver Spurs 4-H Club. I've never been coach to a group of kids who are so well rounded in all areas of equine sports plus have a great work ethic. This is the most award winning batch of kids I've ever been associated with," exclaimed Hinz.
Earlier in the season, Silver Spur members also won 1st and 4th place team at San Antonio Stock Show Horse Judging, High Point Team at Johnson County Horse Judging, three Top 10 finalists at Fort Worth Stock Show's Equine IQ and three Top Ten finalists in San Antonio Stock Show's Skill-A-Thon.
---
Silver Spurs 4-H Club, which focuses on the horse project, meets once a month for a general membership meeting and education as well as additional practices per month at the Flying Dollar Ranch in Italy. The new 4-H year will begin September 1. Any Ellis County, or adjacent county, kids interested in the 4-H horse project may contact club manager Julie Hinz at hinzjulie @hotmail.com. For more information on how to join 4-H and other projects that 4-H has to offer, contact the local agricultural extension office or peruse https://texas4-h.tamu.edu/