Lady Gladiators finish as regional quarter finalists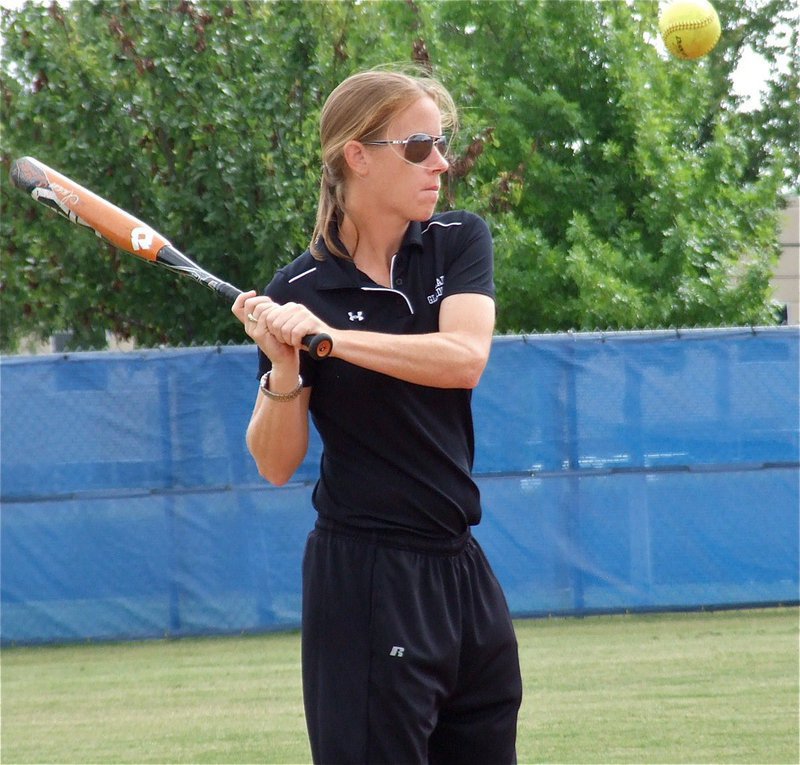 Waco — What a team, what an effort and what a great season the 2012 Italy Lady Gladiators strung together before succumbing to the experience of 4th ranked Crawford with the Lady Pirates sweeping Italy in two games during the regional quarterfinals in Waco.
Italy stood cleat to cleat with 4th ranked Crawford throughout the series enjoying overwhelming support from the Lady Gladiator fans. The noise level was off the charts and participating in the cheering was definitely fun for everyone.
Starting game 2, Crawford heated up early taking a 3-0 lead in the bottom of the first-inning. The Lady Gladiators quickly rallied in the top of the second-inning with Alma Suaste crossing home plate to put Italy on the board, 3-1. Italy kept firing away and soon tied the contest, 3-3.
Italy's senior pitcher, Megan Richards, and freshman pitcher, Jaclynn Lewis, split mound duties for head coach, Jennifer Reeves, but Crawford's bats hit enough balls into the gaps and open spaces to keep Italy's defenders on the move. Although, outfielders Tara Wallis, Madison Washington and Suaste proved they could make the big catches during the playoffs, and especially in game one, they just didn't have many opportunities to back Richards and Lewis up, credit Crawford's sluggers.
Offensively, Crawford's coaching staff got the message when Italy's Alyssa Richards sent a Lady Pirate pitch sailing just foul and over the left field fence. Whenever Alyssa Richards picked up a bat from that point on, Crawford's strategy was to walk her, especially with the bases loaded late in game 2.
Despite Alyssa Richards being held in check, Italy still managed to keep the pressure on the Lady Pirates but again fell behind when Crawford built a 3 run lead to go up 6-3. In response, the Lady Gladiators loaded the bases once more, but were unable to get any further than third base. Crawford added a few more runs in the game's final moments to win the 2A regional quarterfinal championship, 9-3 over Italy.
In a show of class and good sportsmanship, Italy congratulated the Lady Pirates after the contest. Lady Gladiator fans were there for the girls as they exited the dugout with hugs and shared tears waiting for them. The 2012 Lady Gladiators finish the season as the District Runner-up, Bi-District Champions, Area Champions and Regional Quarterfinalists to be remembered as one of Italy's best softball team's to ever sport the gold and white.
2012 Lady Gladiators Playoff Roster:
| | | |
| --- | --- | --- |
| Jesey | Lady Gladiator | Class |
| 1 | Bailey DeBorde | Fr. |
| 2 | Madison Washington | Fr. |
| 7 | Alma Suaste | Sr. |
| 8 | Tara Wallis | Fr. |
| 9 | Alyssa Richards | Jr. |
| 11 | Bailey Eubank | Fr. |
| 13 | Katie Byers | Jr. |
| 14 | Kelsey Nelson | Fr. |
| 15 | Jaclynn Lewis | Fr. |
| 17 | Megan Richards | Sr. |
| 18 | Bailey Bumpus | Sr. |
Head Coach: Jennifer Reeves
Assistant Coaches: Tina Richards, Michael Chambers
Managers:
Drenda Burk (Sr.)
Britney CHambers
April Lusk
Bookkeeper:
Rita Garza
Home Announcer:
Sa'Kendra Norwood (Sr.)