Deadline November 1—Order your brick placeholder(s) for the new outdoor pavilion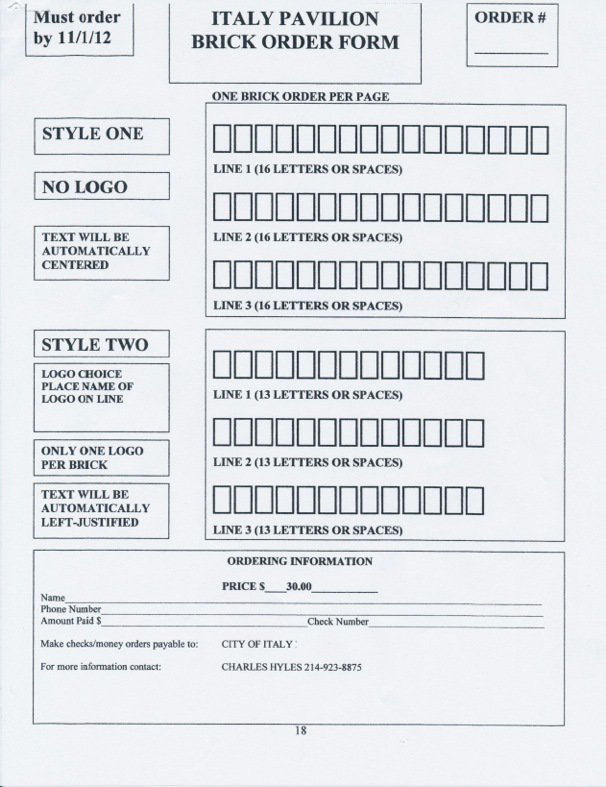 Italy — Be a part of history! Order your personalized brick or bricks that will appear along top of the 30" high pony walls that will surround the newly approved downtown outdoor pavilion center. Ronnie Hyles Home Supply is the general contractor with other local business joining the build, including Bowles Redi Mix, Inc. of Italy, owned by Michael Bowles, and J&S Electric, owned by Jimmy Weaver.
There are 2 different styles in which to design your brick(s):
Style One:
Each brick will contain 3 lines with up to 16 letters (Including spaces) appearing on each line. The 3 lines of text will be automatically centered on the brick(s).
Style Two:
Logo options are also available but each line of text can only contain 13 letters when logos are used. The text will automatically be left-justified.
You can order your brick(s) from the Italy Economic Development Corporation (EDC). Forms have been left inside local businesses that you can be filled out and then turned in to Italy City Hall, along with a $30.00 payment per brick. Brick purchasing is open to anyone including out of town businesses.
Contact:
If you have any questions regarding your brick(s) purchases or order, contact EDC board member Charles Hyles at: 214 – 923 – 8875