George Scott Scholarship fundraiser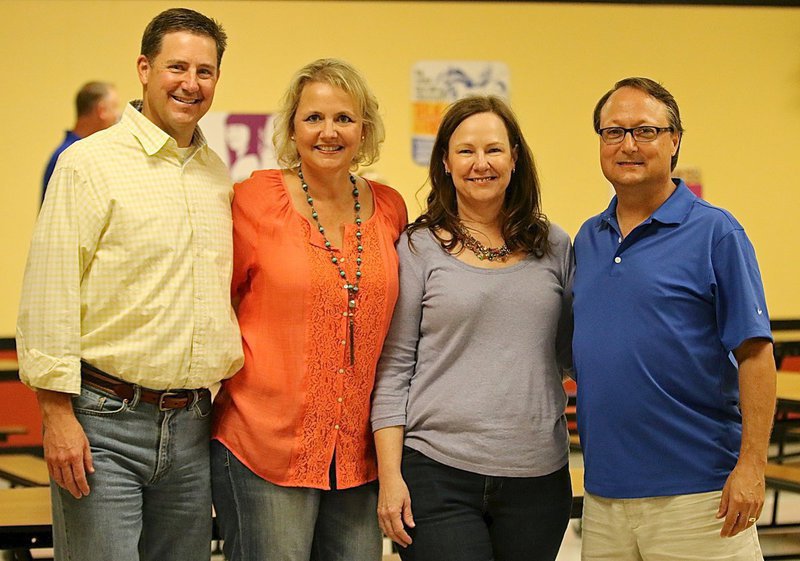 The 22nd Annual George E. Scott Memorial Scholarship Dinner was held last Friday night before the Homecoming football game in the school cafeteria. The catered meal by Bubba's Barbecue of Ennis featured brisket, sausage, potato salad, beans, bread and tea.
The fundraiser is held prior to the homecoming football game each year. Donations are also taken throughout the year in honor or in memory of someone. Donations are accepted when people just want to help our students attend college. Due to the current economy, donations are down from previous years. The meal is not only a fundraising event, it is also a social event. Ex-students of Italy High School return to meet with classmates and friends at the dinner.
"The scholarship is helping me with my education," said Zain Byers. "I feel honored to receive a scholarship named for one of my dad's favorite heroes." Byers is a freshman at Austin College. He plans to teach and coach.
Emily Stiles is a Criminal Justice major at Sam Houston State University. She said she knows her community backs her up every time she picks up a book that was purchased with the scholarship funds.
Logan Owens is a Sophomore at Navarro College majoring in Psychology. "Not only does the money help me to attend college, but the process I went through helped prepare me for receiving other scholarships," Owens said. "It helped me know what to say and what to do. It gave me self-confidence."
Taylor Turner is a Physics major at Angelo State University. She said the scholarship dinner has given her a reason to come home more. "I want to thank every one that has supported the George Scott Scholarship."
Jesica Wilkins is a Nursing major at Navarro College. She also is a hair stylist at Vogue Salon in Waxahachie. She said the scholarship has given her an opportunity to further her education and is helping her attain her dream of becoming a nurse.
Monserrat Figueroa is a freshman at Stephen F. Austin University. She said the scholarship will help her attain her goal of receiving her BBA in Accounting. "It was a rewarding experience to qualify and receive the George Scott Scholarship," she said.
Remembering a great man, supporting local youth and sharing a great meal is what the George E. Scott Memorial Scholarship dinner is all about. George E. Scott was the superintendent for Italy ISD from 1967 to 1991. Because of his desire that every student at Italy ISD have an opportunity to further their education after graduation, he started the scholarship fund in 1986 with a personal contribution. The scholarships that are presented every year are George Scott's legacy.
George's dream is still alive and has helped many students get to college and fulfill their dreams. Among past recipients are doctors, attorneys, teachers, coaches, pharmacists, journalists, authors and nurses to name a few.
The previous recipients are:

~ 1993 ~

Adam Corley

Rhonda Finch

Celeste' Kennedy

~ 1994 ~

Robbie Freeman

Cortney Owen

Scott Roberts

~ 1995 ~

Dana Batte

Teresa Wilhite

~ 1996 ~

Amber Gearner

Jason Harris

~ 1997 ~

Chris Boyd

Christie Owen

Jason Ward

~ 1998 ~

Rebecca Gage

Casey Gearner

Debra Wainscott

~ 1999 ~

Michelle Clark

Angela Walker

~ 2000 ~

Adam Alvarez
Brook Boyd

Amber Bradley

Keland Lewis

~ 2001 ~

Katie Chamness

Ashley Clark

Jarod Durham

~ 2002 ~

Jennifer Barthel

Jordon Droll

Natalie Jackson

~ 2003 ~

Holly Alvarez

JoAnn Jones

Mark Wainscott

~ 2004 ~

Cassie Madewell

Sarah Morgan

Nichole Short

~ 2005 ~

Krystal Evans

Niki Howard

Patrick Roberts

~ 2006 ~

Jenna Bankhead
Jamie Duke

Jessica Simon

Brian Weaver

~ 2007 ~

Kalin Davis

Megann Lewis

Cameron Owens

~ 2008 ~

Barbara Barnhart

Danielle Cotter

Chelsea Spraberry

~ 2009 ~

Tyler Boyd
Trevor Davis

Angelica Garza
Clay Major

Chase Michael

~ 2010 ~

Lexie Miller
Josh Milligan

Brandon Owens

Ivan Roldan

~ 2011 ~

Molly Haight

Amber Mitchell

Melissa Smithey

~ 2012 ~

Kaytlyn Bales
Jase Holden

Megan Richards

Kaitlyn Rossa

~ 2013 ~

Megan Hooker
Reid Jacinto

Brett Kirton
Logan Owens

Alyssa Richards

~ 2014 ~

Zain Byers
Monserrat Figueroa

Emily Stiles
Taylor Turner

Jesica Wilkins